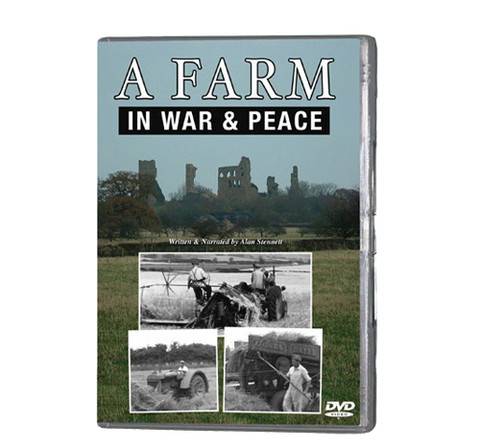 A Farm in War and Peace (DVD 071)
Situated within the walls of a twelfth century castle is a farmstead called Castle Farm. For nearly a thousand years the Sherriff Hutton community has sheltered under its war-ravaged walls. In the 1940s, the desperate need for food took it back to war, when Castle Farm was mobilised to help feed the nation. Many of its workers went away to fight, but production was maintained with the help of Italian and German prisoners of war.
This DVD features archive film footage of PoWs at work in Castle Farm, as well as showing the changes that took place in the 1950s and 60s as it moved from wartime controls to become a modern dairy unit. A dairy herd of the now rare Ayrshire cattle, vintage farm machinery including Fordson and Ferguson tractors and one of the earliest Land Rovers are all featured.
The DVD also includes interviews with the family who owned the farm, and people who worked there and material from Eden Camp, the local PoW camp, now a WWII museum.
Running time 50 minutes

Written and Narrated by Alan Stennett
Colour, B/W. UK PAL DVD
Aspect ratio 4:3
BUY THIS ITEM AS PART OF A FARMING ARCHIVE BUNDLE AND SAVE £10
---
We Also Recommend