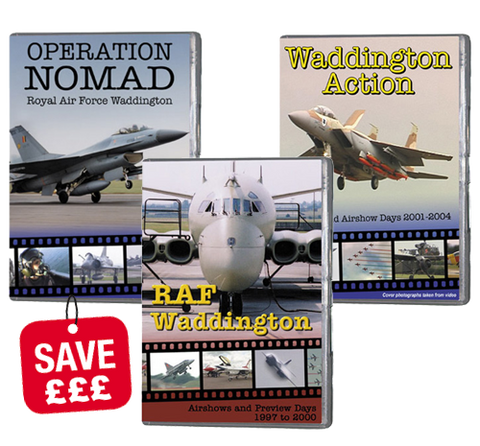 Bundle - RAF Waddington flying (DVD)
This bundle compiles nearly five hours of video footage from RAF Waddington airshows and operational activities, during some of the busiest years the airfield has seen. Save £5 on this bundle collection.
Operation Nomad (RRP £10).  RAF Waddington in Lincolnshire hosted one of the most effective training exercises available to fast jet pilots utilising the ACMI theatre, and the North Sea combat range. Operation Nomad is a Multi National Dissimilar Air Combat Training course that involved RAF Tornado F3s, French Mirage 2000, Belgian F16s and Spanish F18s.  This video includes Operation Nomad events of 1995, 1997 and 2001 with interviews and a fascinating look at the debriefing of aircrew in the Air Combat Manoeuvring Instrumentation (ACMI) theatres at RAF Waddington and RAF Coningsby.  Also included on this video - Swedish AF SAAB Drakens visiting RAF Waddington in 1997 for a training exercise. Since the closure of the ACMI theatres at RAF Coningsby and RAF Waddington, this film has become a record of an era in aviation not to be repeated.
RAF Waddington Action 1997-2000 (RRP £10).  A video compilation of some of the best action at RAF Waddington Air Shows and Preview Days 1997 to 2000, including the Stealth F117 arrivals in 1995.  Includes the Rockwell B1-B, MiG-29, Bell P63, Jaguar, Harrier T8, SU27 Flanker, F16, Lynx, SAAB Viggen, F86 Sabre, Mirage F1 and 2000, De Havilland Vampire, Magister and many more.  Display teams include the RAF Red Arrows, French AF Patrouille De France, Swiss Patrouille De Suisse, Royal Jordanian Falcons, Italian AF Frecce Tricolori, Spanish Team Aguila, L39 Albatross Team, Aerostars, Blue Eagles and the USAF Thunderbirds.  An air show period that will never be recaptured, compiled into on two hour DVD - a real treat for your aviation fan.
Waddington Action (RRP £10).  A compilation of some of the best action at RAF Waddington Preview and Air Show days. Featuring the Israeli Air Force F-15I, never seen at a Western air show before! Includes many aircraft types such as the Rockwell B1-B, MiG 29 Fulcrum, Phantom F4, Tornado, Jaguar, Harrier, Hawk, Alphajet, Tucano, Merlin, Lynx, Gazelle, Hercules, and the first flying appearance of the Typhoon at Waddington Airshow. Vintage aircraft include the Meteor, Vampire, Hunter, Gnat, the Army Historical Flight, Battle of Britain Memorial Flight, a DH Dominie and many more.  This DVD groups all the flying in to six categories (heavy metal, fast jets, aerobatic, display teams, vintage birds and helicopters) allowing you to compare the power, manoeuvrability and accuracy of the many aerial displays.
---
We Also Recommend