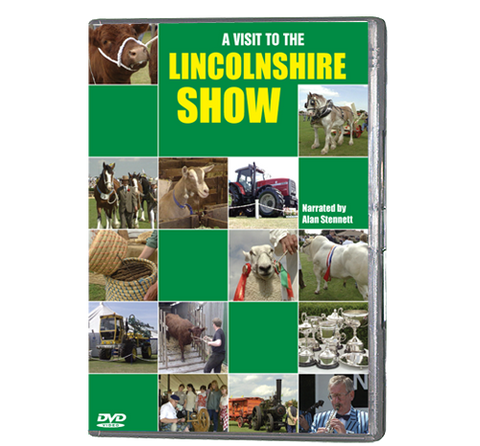 Visit to the Lincolnshire Show (DVD 111)
The Lincolnshire Show is the high point of the county's summer for the local farmers and their families, who come to compete, converse or conduct business. It's also a great day out for the tens of thousands of visitors who come to look through this window on the countryside at the latest in farm technology, some of the finest livestock in the country and the wide range of displays, exhibits and entertainment. The DVD looks behind the scenes of the 1995 event as the  livestock are prepared for judging, joins the crowds around the show ground and shares the excitement of the main ring, including the splendid pageant of 100 years of harvest - from scythes and steam to giant combines and high speed tractors. 
Narrated by Alan Stennett, who first visited the Show in 1947, and has reported on every show since 1980, "this real farmers' show" comes through in all its variety and colour as an event for all Lincolnshire folk, and lovers of the countryside everywhere.
Running time 50 minutes

Colour, UK PAL DVD First Released 1995

Aspect ratio 4:3

Narrated by Alan Stennett
---
We Also Recommend