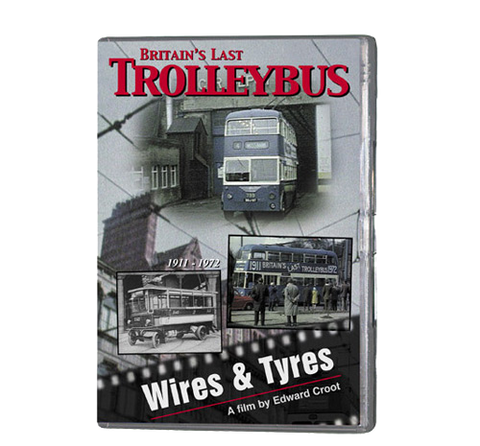 Britain's Last Trolleybus (DVD 048)
This DVD tells the story of Britain's Last Trolleybus service in Bradford, over the sixty one years of it operating history, using archive film, pictures and fascinating interviews with former crew members. The Bradford film is supplemented by other trolleybus material recorded in various parts of the country by enthusiast Roy Brook, a well known transport film maker.
Back in 1971, when it was apparent that the trolleybuses would soon be retired forever, local film maker Edward Croot, and friends decided to record the final days of the the British electric bus. The filming was spread across the last six months of operation, culminating in the historic closure.
The last bus, duly painted to announce that it was definitely the last one, made it's trip with the official party. The crew of the following tower wagon turned off the power as it cleared each section. The City's Mayor finally turned off the depot power and Bradford's trolleybus era slipped into transport history. Perhaps the most poignant scene captured on camera was the drived of the last service trolley leaving the cab depot, taking with him all of his belongings.
Running time 58 minutes

Colour and B/W

UK PAL DVD

Aspect ratio 4:3

Written by Timothy Croot

Edited and produced by Edward Croot
---
We Also Recommend