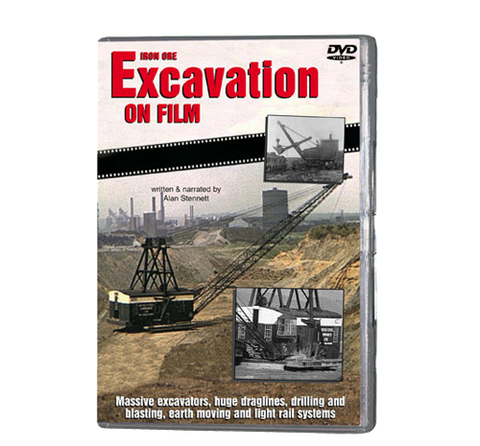 Excavation on Film
Huge drag-lines, massive bucket excavators, big bulldozers and large scraper buckets that dig up and cart away tons of material at a time are the subject of this bygone DVD.
Using archive film shot in iron ore mines between 1935 and 1953 this video features the drilling, blasting and excavation of iron ore for the blast furnaces in Scunthorpe. Wheeled DS21 Caterpillar scrapers and other earth moving equipment are also seen at work in the North Lincolnshire mines, as well as fascinating film taken in 1908 showing the world's first caterpillar tracked vehicle, a British invention without which much of the machinery used in the mines could not have moved about.
The construction of a transporter to carry spoil from the excavations to the back-fill is shown and steam trains are seen moving the ore from the mines to the blast furnaces or to a rail-head for hauling to more distant destinations.
Running time 50 minutes
Colour and B/W, UK PAL DVD
Aspect ratio 4:3
Narrated by Alan Stennett
---
We Also Recommend