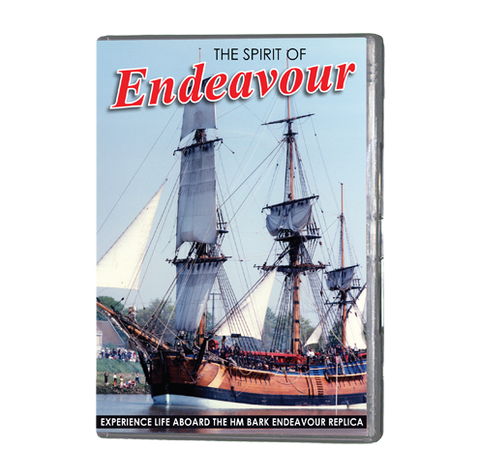 Spirit of Endeavour (DVD 037)
Journey with the crew of the famous Replica of Captain James Cook's HM Bark Endeavour as she arrives from Australia on an epic voyage to Britain and The Americas. Includes footage of the building of HM Bark Endeavour in Fremantle, Western Australia, and the official launch! (Material courtesy of Channel 9 Perth). Witness the spectacle as thousands gather to welcome her home to Whitby; the historic port town of Boston in Lincolnshire, where visitors broke all records; and her final departure from British Shores as she set sail from Plymouth for America. Features re-tarring of ropes, strip down and repairs during refit at Whitby, plus the hull's repainting in Alexandria dry dock, Hull.

Our cameras follow the action as we talk to the crew, in port and at sea, with fascinating on-board film off the coast of Tenerife, and her visit to Boston Massachusetts, during her USA tour. This video captures the remarkable journey of this famous replica ship and is a tribute to Captain Chris Blake, his crew, and the Endeavour Foundation, Fremantle, whose commitment and effort are fine examples of 'The Spirit of Endeavour'.
Running time 60 minutes

Narrated by Dave Bussey

Colour, UK PAL DVD

Aspect ratio 4:3
---
We Also Recommend