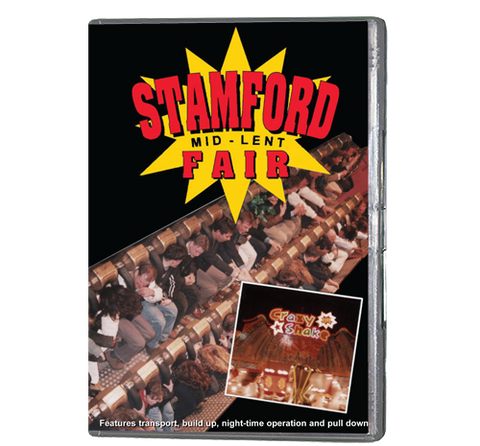 Stamford Mid Lent Fair (DVD 067)
Stamford's historic stone building were an impressive backdrop to the Mid-Lent 1996 fair which was reported as being one of Lincolnshire's biggest, rivalling Lincoln and Boston Fair.
A dozen major attractions were new this year with some never seen before at Stamford. The newcomers sat side by side with the regulars and included Rolling Thunder, King's Circus Fun House, Horror Express, Terminator and Evan's repainted Waltzer, to name a few. The big guns though were John Crick's Ranger, imported from Germany, which spectacularly swung its boat between two buildings; and James Mellor's new Crazy Shake which stimulated great interest.
The video features stunning night time operation with the majority of rides shown and includes transport, the pull on, build up and pull down. Primetime's unique commentary-free style guarantees a feast of fariground sounds which compliment the superb images.
Running time 85 minutes
Colour, UK PAL DVD
Aspect ratio 4:3
---
We Also Recommend