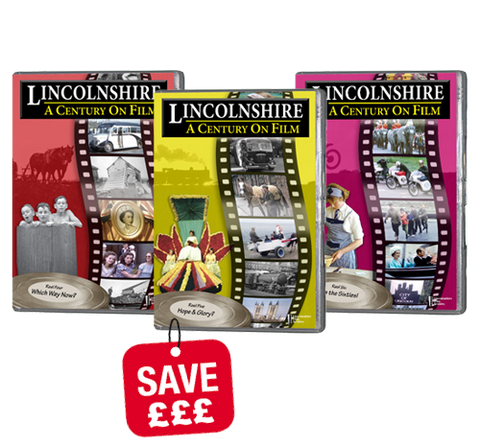 Bundle - Lincolnshire a Century on Film 4,5 and 6 (DVD)
Comprising parts 1,2 and 3 in our Lincolnshire Archive series made with the Lincolnshire Film Archive:
Lincolnshire - A Century On Film Volume Four (RRP £14.95) of this exciting new series, written and narrated by Alan Stennett, covers the immediate post-war period, when events like the Royal Show and the Boston Regatta were re-starting, and it was safe to go to the beach again at Cleethorpes or Skegness. What with rationing, austerity, the big freeze of 1947 and the floods that followed, the post-war years were far from easy. But with film available again, we have a rich record of everyday life at the time; bathing the baby, the family Christmas party, fun and games at Scout camp, or getting your car across the Humber on the ferry.  Moreover, as the 1951 Festival of Britain emphasised, this was also a time of significant innovation, with new technologies transforming agriculture, factories, mining, laundries, and even the monitoring of water quality. Schools, too, were promoting new advances in physical education. Then in 1953 came two of the decade's most memorable events; the disastrous East Coast floods in January, followed in June by the Coronation of Queen Elizabeth II, a triumphant occasion which finally banished those grey post-war days, with Lincolnshire towns and villages all determined to make their own celebrations the best.
Lincolnshire - A Century on Film Volume Five (RRP £14.95) covers the early years of Queen Elizabeth II's reign, when post-war austerity was giving way to exciting new developments. Tractors and combines were replacing horse power; at Lincoln Central station, busy with passenger and goods trains, the skyline was transformed by the construction of Pelham Bridge, opened by Her Majesty the Queen; a major South Holland institution was born as the first annual Tulip Parade brought colour and excitement to the streets of Spalding; in Gainsborough, the opening of a new petrol filling station was a cause for celebration; Louth had its new grain silo and maltings; and the Scartho scouts were building their own swimming pool.  But tradition was still very much in evidence. The Belvoir Hunt was in full cry again; trawlers set out from Grimsby, one of the world's great fishing ports; there were paddle steamer trips to Spurn Point; a sewing bee was held in preparation for the village fête, where bowling for a pig was still the highlight; and at a Sleaford secondary modern school, the curriculum included agriculture, metal work and the baking of rock cakes. But despite the air of calm and security, the WVS were learning to build emergency cookers in case of nuclear war; and with the swinging sixties just around the corner, a traditional family holiday at Skegness now seems to mark the end of an era.
Lincolnshire - A Century on Film Volume Six (RRP £14.95) covers the 1960s, fondly remembered as a period of liberating social change, especially for the young, as music and dance were suddenly free to develop in exciting new directions. But in other areas the old ways were slower to disappear. As we see, schoolgirls still had cookery lessons, the village shop was central to local life and a typical day out meant a visit to the seaside, the zoo, or one of the many Agricultural Shows. Nevertheless, innovation was certainly in the air. The new stern trawlers were revolutionising commercial fishing, the motor racing circuit at Cadwell was substantially extended, and South Lincolnshire gained major new visitor attractions with the opening of Springfields Show Garden and the increasingly elaborate Spalding Tulip Parades.  What do you remember about the Sixties? Maybe it's the Big Freeze of 1963 or 'I'm Backing Britain'. Now you've a chance to re-live those memories. Or what about the annual Kennedy Memorial Test, with participants walking (or even running) from Louth to Skegness and back, all within twenty-four hours.  Also featured are Royal visits, teacher training, Carrington Steam Rally, Scouts and Guides, St John Ambulance cadets, a Circus parade in Grimsby, disastrous fires at Lincoln and Louth and, in this era of progress and unlimited opportunity, a remarkable new system of 'electric' fishing and an ingenious folding boat.
---
We Also Recommend