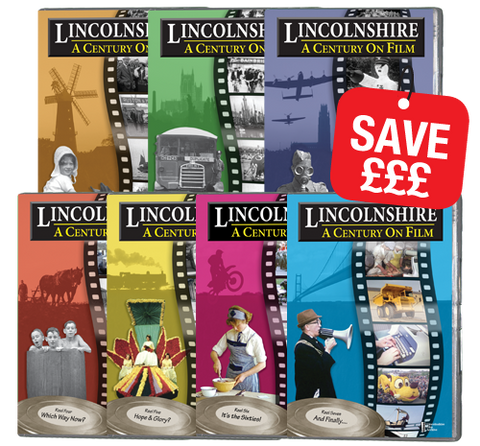 Bundle - Lincolnshire A Century on Film Collection (DVD 304)
Buy the complete set of Lincolnshire A Century on Film DVDs.
'Lincolnshire - A Century On Film' is a major new series of DVDs showing life and work in the historic county.  Drawing on an extensive motion picture collection, much of it never before made available for home viewing, the Lincolnshire Film Archive has set out to present a wide-ranging picture of a hundred years of Lincolnshire life.  Town and country, work and play, wealth and poverty, peace and war, youth and age.  You'll find them all here, preserved on archive motion picture film.
Bundle includes Reels 1 to 7 (7 DVDs in total)
Narrated by Alan Stennett
Total running time 516 minutes
Colour and B/W UK PAL DVD
Aspect ration 4:3
---
We Also Recommend