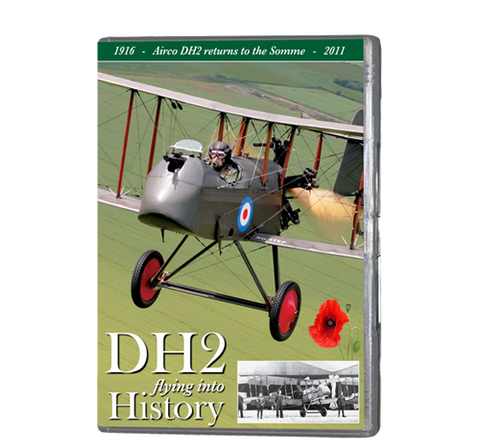 DH2 Flying Into History
The Airco DH2 based at Wickenby Airfield, is an authentic replica of the WW1 fighter biplane that rose to fame during the Battle of the Somme, between July and November 1916. Led by Major Lanoe Hawker of 24 RFC Squadron, the DH2 reclaimed the skies of the Western Front, and ended the reign of Germany's Fokker Eindecker. Wickenby's Replica is painted in the military colours of Hawker's aircraft, which inspired 24 RAF Squadron to invite the DH2 team to fly over the unveiling of a new memorial to Hawker in France, on 11th November 2011.

This DVD documents the remarkable journey of the DH2 as it makes the slow transit across the icy waters of the English Channel before returning this WWI icon to the skies above the Somme - the first time in nearly 100 years! The team also drop poppies at Thiepval Memorial, and fly over the crash site of Major Hawker, where he was shot down by Manfred von Richthofen (The Red Baron) on 23rd
November, 1916.

Features the highs and lows of flying a vintage aircraft, plus interviews with the team, historians and observers. WWI archive photographs and onboard cameras bring this fascinating adventure to life. This historic flight was the ultimate act of remembrance, returning the DH2 to its spiritual home, paying homage to all who sacrificed their lives during the War, and remembering Britain's first fighter ace.
Running time 60 minutes
Narrated by David McAlister and Philipp Steinbach
Colour and black/white
Aspect ratio 16:9
---
We Also Recommend