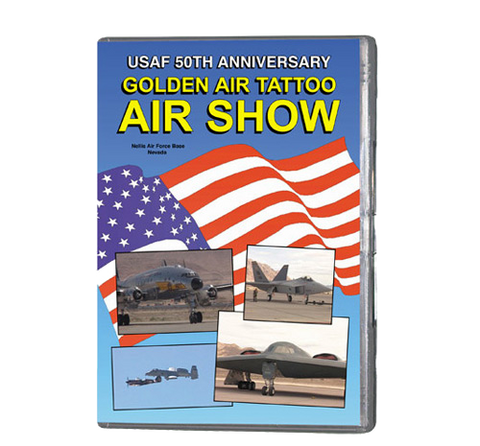 Nellis Air Force Base - Golden Air Tattoo (DVD 051)
America's 50th Anniversary Air Show. With B2, F-117A, B1B, SR71 and a static mock-up of the new F22. World War II aircraft include the BBMF MkV Spitfire, P40 Warhawk, Messerschmitt Me109, P51 Mustang, P47 Thunderbolt, P38 Lightning, F86 Sabre, B17, C121 Constellation and B24 Liberator. Heavy metal includes B-52, KC-135, C-5 Galaxy, C-17 Globemaster, F-111, F15, F16 and much more.
Impressive simulated attack with A-10 Thunderbolt and Search and Rescue demonstrations and HH60 helicopters. Spectacular display flying with Japanese 'Blue Impulse' (first time ever seen outside Japan), Brazilian 'Smoke Squadron', Chilean 'Halcones', Canadian 'Snowbirds' and the famous USAF 'Thunderbirds'.
Also includes pre-airshow interviews with event organisers, warbird pilots Chuck Yeager and Paul Day, behind the scenes film on base including inside Nellis AFB Control Tower, plus much more. Unequalled access to Nellis AFB - Home of the Fighter Pilot - captured on video for all aviation fans.
Running time 90 minutes

Colour, UK PAL DVD

Aspect ratio 4:3
---
We Also Recommend