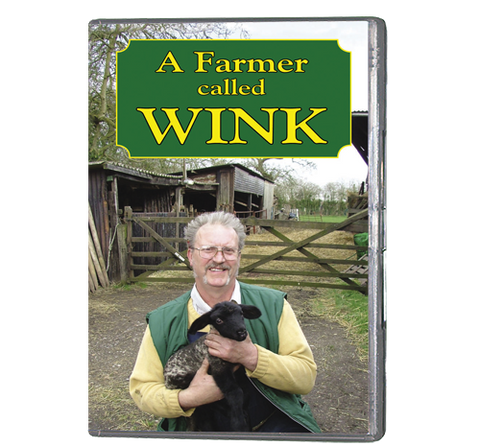 A Farmer Called Wink 1 (DVD 078)
This DVD was filmed on the farm and at the home of Wink and his brother Dick, and is full of the homespun wisdom that Wink regularly delivers in his authentic Lincolnshire dialect. Wink talks about family life on the farm, the battles he had with his teachers, who tried to force him to speak 'proper English' and the food he eats at home, which he prefers to be 'plain and stodgy'! The preparation of Lincolnshire stuffed chine is lovingly described and demonstrated, and Dick cooks up their favourite pudding jam sussy.

We see him at home on the farm, looking after his cattle and sheep, lambing a ewe, and making a traditional wooden sheep hurdle. We join him on a visit to Louth Cattle Market, the only market now open in Lincolnshire, and discover what locals may think of his driving habits - 'careful' would be an understatement! Wink is one of a breed that is fast dying out, along with the dialect he uses which he describes as broad and rough. This video is a fascinating piece of social history as well as an entertaining look at life through the eyes of a farmer called Wink.
Running time 60 minutes

Written and narrated by Alan Stennett

Colour, UK PAL DVD

Aspect ratio 4:3
---
We Also Recommend