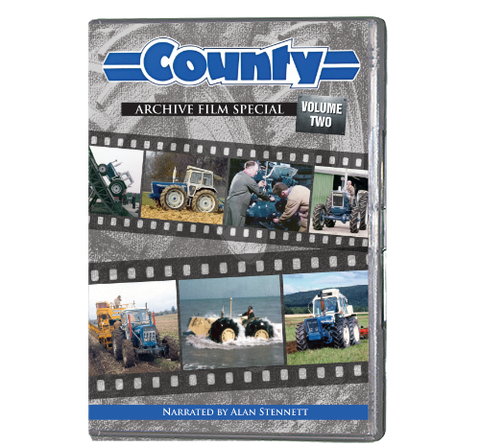 County Archive Film Special - Volume 2
County is one of the great names of British agricultural, industrial and civil engineering machinery, with its innovative use of tracks and four-wheel drive mechanisms, mostly based on Ford and Fordson power units. In this production we concentrate on the field where they were best known – agriculture, using original film shot by the company for use as sales and promotional tools.
County got involved in farming at the end of WW2 when the government contracted them to build a suitable tracked tractor for British farmers. The result was the County Full Track, or CFT, based on the Fordson E27N Major tractor. Upgrades and the arrival of the E1A Major saw the Mark II County Crawler take the place of the CFT in the County agricultural range. The crawlers were successful at home and abroad, but overseas demand led to the introduction of wheeled four-wheel drive tractors, including the Four-Drive, Super 4 and Super 6 machines. These were later developed to use power and drive units from most of the Ford tractor range in later years
Examples of wheeled and tracked tractors are featured here, including the Swampmaster low ground pressure range, a wheeled example of which can be seen crossing the English Channel under its own power.
The unique, and largely unseen, material on the films used here mean that these productions will be a must for County enthusiasts and all fans of British agricultural engineering.
Running time 1hr 15 minutes
Written and Narrated by Alan Stennett
Featuring b&w and colour archive film
Aspect ratio 16:9 (pillar box)
---
We Also Recommend