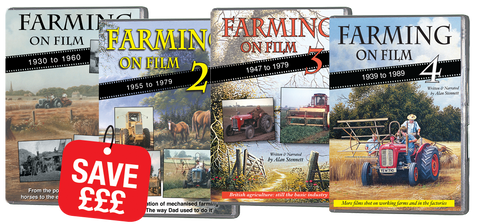 Farming on Film 1-4 Series (315D)
Featuring parts 1,2,3 and 4 of our award winning DVD series:
Farming on Film 1 - 1930 to 1960 Drawing on archive film shot entirely on working farms, 'Farming on Film 1930-60' records the change from the days of the scythe, the horse-drawn binder and the steam threshing set to the all consuming combine, and from the traditional mixed farming to the large specialised units of recent years. Highlights include footage of local and county shows, a primitive Claas combine, a gyrotiller at work, steam threshing and ploughing, and a wartime cattle market.

Farming on Film 2 - 1955 to 1979 Drawing on this archive material this video illustrates the changes affecting different farms at different times, from the middle 1950s to the late 1970s. Scenes of horse and tractor drilling, corn binding and carting, threshing and stack building sit side by side with images of self-propelled combines, automatic bailers, men riding the bale sledge while haymaking, and a range of attachments that made even the most humble tractor a do-it-all machine. 
Farming on Film 3 - 1947 to 1979 This DVD uses unseen archive motion picture film from the 1940s to the 1970s, often taken by the farmers themselves, to show how farming responded to that call by introducing new machinery, techniques and marketing that reduced the need for man- and horse-power in the fields and on the farms. Rare archive coverage of the first post-war Royal Show in 1947, sets the scene for the changes that are to come. 
Farming on Film 4 - 1939 to 1989 The fourth volume in this award winning series ranges over half a century from idyllic 1939 harvest scenes of working horses, men and binders, through steam cultivation, vintage tractors and the early stages of mechanisation of crops like sugar beet and potatoes right up to 4-wheel drive articulated tractors in 1989.
Written and Narrated by Alan Stennett
Featuring colour and b/w archive
Aspect ratio 4x3 (16x9 pillar box)
---
We Also Recommend