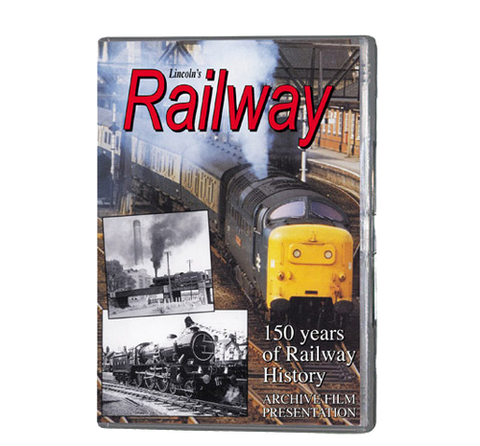 150 Years of Lincoln's Railway (DVD 049)
From Great Northern steam to Central Trains diesel, this unique DVD tells the story of one hundred and fifty years of railway history in Lincoln. The story began on August 4th 1846 when a Midland Railway train arrived in the historic city. Four other railway companies later joined the Midland, providing goods and passenger services from two stations via eight routes to destinations all over Britain.

Archive film, from as early as 1935, shows steam and early diesel services, with behind-the-scenes glimpses of railway operation. DVD highlights include early film of the High Street level crossing, the first green diesel multiple unit seen in Central Station, the 100mph "Deltic" express diesels in service, colour film of heavy haulage, and two visits by "Flying Scotsman" in the sixties.

Supported by maps and footage of surviving railway locations, complete with drivers-eye views of the four lines that still serve the Central Station, the sole survivor since the Midland St. Marks Station closed, this DVD fills a significant gap in railway history coverage and will be of great interest to all railway fans.
Running time 60 minutes
Written and narrated by Alan Stennett
Colour/BW, UK PAL
Aspect ratio 4:3
---
We Also Recommend