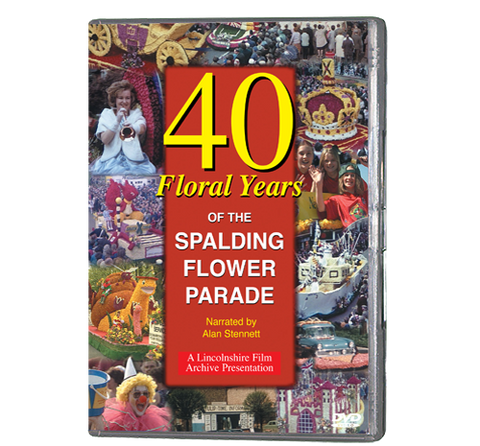 40 Floral Years of Spalding Flower Parade (DVD 039)
Forty Floral Years of the Spalding Flower Parade DVD celebrates this wonderfully colourful event, which has graced the streets of Spalding since the late 1950s.
This special DVD compilation includes colour film of the first tulip parade in 1959, film coverage of the next two decades' events, with highlights of more recent ones upto and including the 40th Anniversary parade. Floats featured on the DVD include the 'Crown Jewel' of floats which celebrated H.M. the Queen's Silver Jubilee, a Camel Train, the only British Moon Rocket, Snow White and the Seven Dwarves, the Tower of London, and pigs, pets, toys, and cartoon characters galore.
The DVD also includes archive material of bulb and flower production before the Second World War and colour film of the fields which once surrounded Spalding. The blacksmith who builds the floats and the nimble fingered decorators who add the flower heads to the metal and straw constructions are featured. The building work which turned an empty field into the world-famous Springfields and the opening of the gardens in April 1966 are also shown.
Running time 55 minutes

Colour and B/W, UK PAL DVD

Aspect ratio 4:3

Narrated by Alan Stennett
---
We Also Recommend