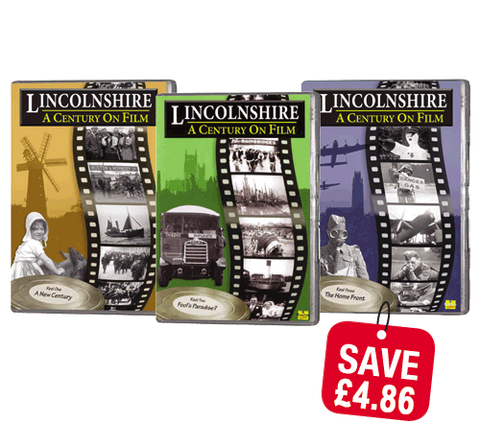 Bundle - Lincolnshire a Century on Film 1, 2 and 3 (DVD)
Comprising parts 1,2 and 3 in our Lincolnshire Archive series made with the Lincolnshire Film Archive:
Volume One (RRP £14.95 - 60 minutes)
Written and narrated by Alan Stennett, covers the century's early years, with film dating back to as early as 1901. Grimsby trawlermen bringing home their catch, hats and dresses to die for -- 1904 style, vintage motor cars and horse-drawn traffic in Lincoln; quarrymen working entirely by hand, but proud of their steam-driven lorry; industry that led the world with products designed and built in Lincolnshire, like the first caterpillar tracked vehicles and pioneering packaging machinery. There are royal visits, coronation and Empire Day celebrations; Great War recruitment and early aviation, Isaac Newton's bicentenary, early Lincolnshire Shows, all the fun of the fair and seaside holidays; a children's party in the 1920s, and bathing the baby in a small tin tub.  And it's true what people say about the old days; things really were different then. The policemen were actually taller, holiday-makers wore their best suits on the beach, and an aeroplane used to be something you could pick up and carry.
Volume Two (RRP £14.95 - 60 minutes)
Covering the decade leading up to the Second World War. With the availability of smaller, easy to use cine cameras, many more people were now recording their lives on film, and judging from their pictures, some of them now in colour, Lincolnshire life seems to have been largely unaffected by the political and economic problems of the 1930s. Agriculture and the Grimbsy fishing industry were clearly thriving, with fish now being frozen for retail sale; and RAF planes flour-bombing a canvas tank give little hint of the horrors soon to come.  In a world where a travelling scissor grinder was still plying his trade, and gravel was laboriously extracted by hand, a Jubilee and Coronation were certain to draw huge crowds, buy traditional pleasures such as Scout Camps, garden fetes and donkey rides at Skegness, Cleethorpes or Mablethorpe were now giving way to novelties like the recently opened Butlins Holiday Camp, and motor racing and Cadwell Park.  Lincoln features prominently, of course, with its buildings old and new, its endless traffic hold ups at level crossings, and its workforce thronging the streets on bicycles. Then there's travel by steam train, motor bus, trolleybus, and various river craft including the Humber ferry, plus floods at Stamford, and the reappearance of the famous Trent aegir. Watch out too for Billy Butlin, Gracie Fields, the Dagenham Girl Pipers and a future Prime Minister, the nine year old Margaret Roberts.
Volume Three (RRP £14.95 - 60 minutes)
Covering the war years. In spite of the difficulties and wartime shortages, local film makers managed to produce a detailed record of this dramatic period in Lincolnshire's history. Drawing on their film material, this DVD covers the period from the last desperate months of peace, right through to the Victory celebrations of 1945.  Among the memorable scenes featured in this DVD are RAF Lancasters operating out of Lincolnshire bomber bases; Air Raid Precaution (ARP) and incendiary bomb exercises; War Weapons Week & aluminium collection for Spitfires; the sand-bagging of buildings and the construction of air raid shelters; arrival of evacuees from the cities; rationing of food, fuel and other essential supplies, the British Restaurant and TocH organisations in action; and the Home Guard recruitment, training and final disbandment. Also features extracts from the film 'Country Town' which shows how the countryside was doing its bit for the War effort.
---
We Also Recommend