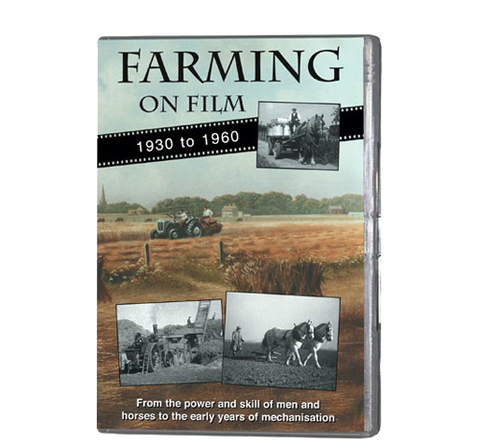 Farming on Film 1 - 1930 to 1960 (DVD 002)
The Second World War was a watershed in British farming. In the 1930s, the skilled human hand and the power of the horse still reigned supreme; but in the rush to produce food to beat the U-boats, traditional methods were swept away. Fifteen years after the war, sophisticated new implements and the concentrated, tireless work of the tractor had all but replaced them.
Drawing on archive film shot entirely on working farms in Lincolnshire, 'Farming on Film 1930-60' records the change from the days of the scythe, the horse-drawn binder and the steam threshing set to the all consuming combine, and from the traditional mixed farming to the large specialised units of recent years.
Highlights include footage of local and county shows, a primitive Claas combine, a gyrotiller at work, steam threshing and ploughing, and a wartime cattle market. Also featured is early daffodil and tulip farming and the famous Spalding Flower Parade. The real stars though are the farmers and farmhands, working in all conditions and all weathers to do what farmers have done for years - care for the land and bring home the harvest.
Running time 60 minutes
Written and narrated by Alan Stennett
Featuring colour and black and white archive
Aspect ratio 4:3
---
We Also Recommend