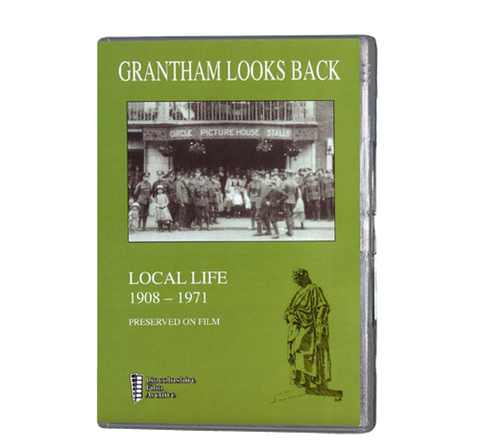 Grantham Looks Back (DVD)
Remember VE Day, the 1953 Coronation, or the Queen Mother's visit to to mark the Borough's Quincentenary? What about Read's Laundry, back in the 50s; or the fastest train in Europe, the Coronation Scot, hurtling through Grantham Station in 1937?
Rare archive footage brings back ot life a host of forgotten moments from days gone by. Kings School in the 1920s, the Aveling Barford fire of 1937, Recruiting Day in 1915, Civic Week in 1935 when hundreds of children spelt out the town's name in huge lettering.
You'll see sporting events ranging from a football match in 1913 to the Pancake races of 1970; scenes from agriculture and industry; the hospital, the airfield the bus station, the ladies' keep-fit display in 1937, and even, from 1917, Grantham's first ever home movie! It's all here - from the Hornsby Chain Tractor demonstrations of 1908 to the opening of the indoor Swimming Pool in 1971. And it's the people of Grantham who are the stars!
Running time 50 minutes

Lincolnshire Film Archive

Colour/BW, UK PAL DVD

Aspect ratio 4:3
---
We Also Recommend