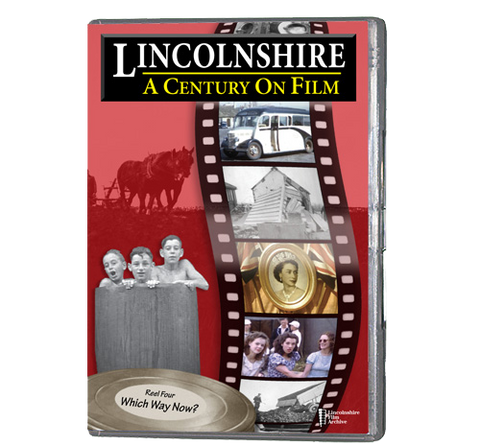 Lincolnshire - A Century on Film 4
'Lincolnshire - A Century On Film' is a major new series of DVDs showing life and work in the historic county. Volume Four of this exciting new series, written and narrated by Alan Stennett, covers the immediate post-war period, when events like the Royal Show and the Boston Regatta were re-starting, and it was safe to go to the beach again at Cleethorpes or Skegness. What with rationing, austerity, the big freeze of 1947 and the floods that followed, the post-war years were far from easy. But with film available again, we have a rich record of everyday life at the time; bathing the baby, the family Christmas party, fun and games at Scout camp, or getting your car across the Humber on the ferry. 
Moreover, as the 1951 Festival of Britain emphasised, this was also a time of significant innovation, with new technologies transforming agriculture, factories, mining, laundries, and even the monitoring of water quality. Schools, too, were promoting new advances in physical education. Then in 1953 came two of the decade's most memorable events; the disastrous East Coast floods in January, followed in June by the Coronation of Queen Elizabeth II, a triumphant occasion which finally banished those grey post-war days, with Lincolnshire towns and villages all determined to make their own celebrations the best.
Running time 76 minutes

Colour and B/W, UK PAL DVD

Aspect ratio 4:3

Written & narrated by Alan Stennett
---
We Also Recommend