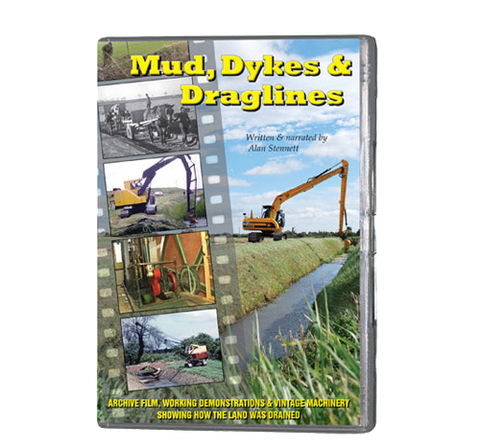 Mud, Dykes and Draglines (DVD 103)
Some of the finest farmland in Britain was once under water, or so wet that it was useless for most kinds of farming. Over the centuries, ways have been found to turn those bogs, fens and salt-marshes into good productive land. This DVD programme uses archive film taken in Lincolnshire, working demonstrations and preserved machinery, to show some of the ways that this was done.
Prisoners are seen at work building earth walls to reclaim land from the sea; a technique – and a labour force! – that has been used since the 1700s, or even earlier.
Vintage machinery, Ruston-Bucyrus and Priestman dragline excavators and their hydraulic successors, dig and clear dykes and drains. A pair of steam ploughing engines can also be seen hauling a drag across drains to clear them of mud and silt. Steam was also an important power source for the pumping engines that drew the water up off the land and into embanked waterways that led it away to the sea. Steam, diesel and electric pumps are all featured in film going back to pumping station building and modification in the 1940s and 50s.
Man-power would always have been a key feature of land drainage work, and this production includes demonstrations and explanations of tools such as sloughs, ritters, foot irons and tile hooks when under-draining fields.
Drainage is revealed to be a fascinating process, without which the world would have been a hungrier place.
Running time 57 minutes
Colour, UK PAL DVD
Aspect ratio 16:9
Written and narrated by Alan Stennett
---
We Also Recommend