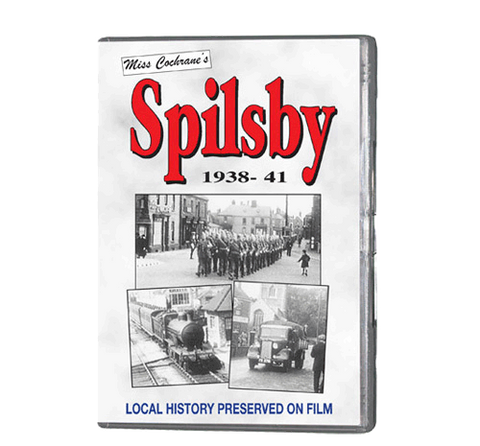 Spilsby 1938-1941 (DVD 045)
This DVD archive film presentation allows Spilsby and surrounding area the opportunity to look back at local life, as seen through the eyes of local resident, Miss Cochrane, between the Spring of 1938 and May 1941. Wright's Bus, horse-drawn vehicles, and views of Firsby Station remind us of transport as it was in pre-war days. The Scouts and Guides parade through the Market place, the South Wold Hunt holds its Christmas Meet and Spring Point-to-Point. There is dancing at Butlins, and at home, afternoon tea is served by a maid in cap and apron.
Then abruptly, the mood changes. The Spilsby Territorials depart for Active Service, air raid shelters and sandbags appear and uniforms are everywhere. Local people learn how to extinguish incendiary bombs and deal with casualties; aluminium is collected for Spitfires and the Home Guard parades through the town. The Grace Swan Memorial Hospital continues its daily work as patients are X-rayed and prepared for theatre. Finally, with the war in its second year, the Duke of Gloucester makes a surprise visit and, like towns all over the country, Spilsby does its bit for the war effort.
The films are presented much as Miss Cochrane took them - silent and with no attempt made to re-edit them or modernise them by adding music, narration or sound effects. However, titles have been added to identify and date the items where possible.
Running time 47 minutes
Black and White, UK PAL DVD
Aspect ratio 4:3
---
We Also Recommend