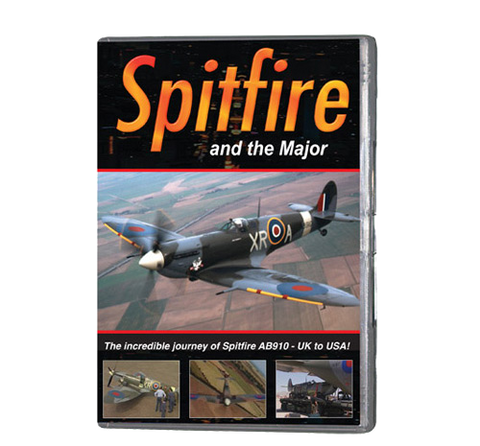 Spitfire and the Major (DVD 030)
Las Vegas is an unlikely destination for a Spitfire, especially a Mk.V from the Battle of Britain Memorial Flight, but, on the 4th April 1997, AB-910 departed RAF Coningsby in Lincolnshire, England, beginning what was to become an incredible journey that was to take it and it's pilot, Sqn Ldr Paul (Major) Day, thousands of miles to the Nevada Desert, to take part in the USAF's premier 50th Anniversary Air Show.
Features first ever Spitfire dismantle by BBMF engineers at RAF Brize Norton, unprecedented flight across the Atlantic packed inside a Hercules, the critical rebuild at Nellis AFB, test flights and air show debut. Also features the inimitable 'Major', Officer Commanding BBMF, and includes USAF A10 and F16 pilots, and other personnel relishing the sight of AB-910. Also includes Spitfire in-flight film with action over Nellis and the Nevada Desert, a dogfight re-enactment with a Messerschmitt Me109 flown by 'Lad' Docter, and interviews with Chuck Yeager, USAF aircrew, the BBMF and JATE teams. Four weeks of aviation history exclusively captured on video by Primetime Videos.
Running time 55 minutes

Narrated by Alan Hardwick

Colour, UK PAL DVD

Aspect ratio 4:3
---
We Also Recommend