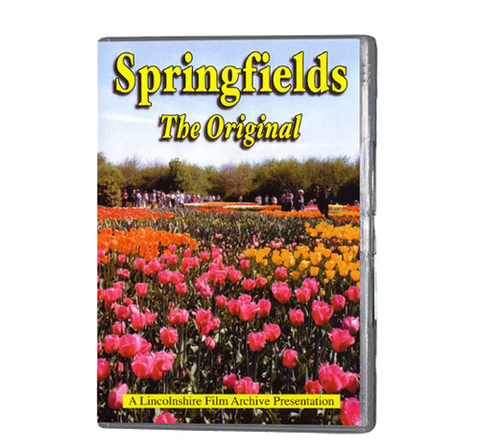 Springfields, the Original (DVD 110)
Rebuilt to an entirely new design, the present Springfields Garden Centre opened in 2004. But forty years previously, work had begun on the original Springfields which took nearly two years to build and opened to the public in 1966. Little remains of it now apart from the name and a continuing sense of civic pride in the vision and enterprise of those who brought it into being. But for over thirty years it was the principal showground for the British bulb industry, and proved to be a major attraction.
This special 40th Anniversary DVD tells the story of that earlier Springfields, using historic footage preserved in the Lincolnshire Film Archive.
Three separate films are included:
The Story of Springfields (32 minutes) - this features the transformation of a potato field into a breath-taking display of sping flowering bulbs. Every stage in the process is faithfully recorded, from the arrival of the surveyors in 1964 to the frantic last-minute preparations and the opening season in 1966. Narrated by James Robertson Justice.
Springtime at Springfields (13.5 minutes) - made in 1968, this reviews the various new developments which had taken place since the Opening two years earlier and includes scenes of the tulip fields and the Tulip Parade. Narrated by James Robertson Justice.
Spalding in Springtime (7 minutes) - a silent film made in 1975, which shows how much the Gardens had matured during their first decade.
Running time 52 minutes
Colour and B/W, UK PAL DVD
Aspect ratio 4:3
---
We Also Recommend