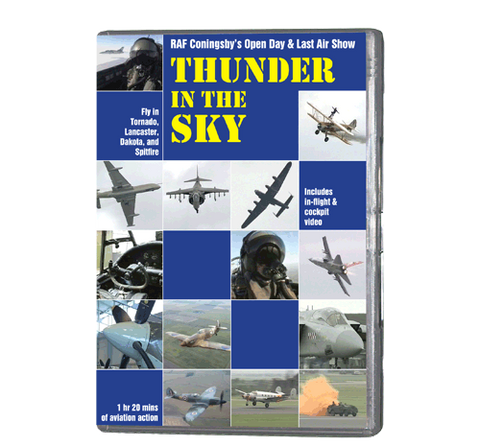 Thunder in the Sky (DVD 052)
RAF Coningsby's last ever air show! This film takes you aloft with exclusive in-flight film from the aircraft based at RAF Coningsby, Lincolnshire England.
The sights and sounds of Coningsby's air show 1993 are captured from the ground and the air as over 20 aircraft types including the F15, Jaguar, Harrier, Nimrod, Hercules, plus historic and aerobatic displays thrill the crowds.
The ultimate experience is an uniterrupted in-flight feature with 56 Squadron's Tornado F3 display team, including cockpit communication between pilot and navigator.
Including film of the Battle of Britain Memorial Flight Lancaster overhaul at RAF St Athan, and the City of Lincoln in her IX Squadron colours. A look behind the scenes of the Air Traffic Control, seeing what it takes to organise a major air show. Tornado pilot and BBMF Fighter Leader, Squadron Leader Paul Day, compares World War II technology with the modern fighting machinery of the Royal Air Force.
Running time 80 minutes
Colour, UK PAL DVD
Aspect ratio 4:3
---
We Also Recommend