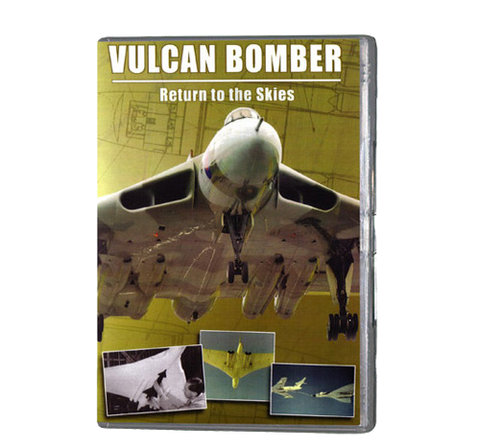 Vulcan Bomber: Return to the Skies (DVD 412)
The Royal Air Force held its breath as its ageing but legendary fleet of Vulcan Aircraft undertook one last mission.

The RAF took the first strike against the Argentinian invaders of the Falkland Islands. Its bombs delivered an unmistakable message; the British are coming and we will not be defeated. Only one aircraft could achieve this seemingly impossible mission such long distances. The legendary Vulcan Bomber.

As large as a Boeing 737-200. As fast as a fighter. With an operational ceiling of 65,000 feet her delta shape and ultra secret anti radar devices made her all but invisible to enemy forces. She was unlike anything that had been seen before and sent shock waves around the world.

This DVD charts the history of the aircraft, the conflicts it was involved in and follows the restoration of the World's only flying Vulcan, XH558. Also features archive film and photographs, interviews with aviation journalists, those involved with XH558's restoration and former RAF pilot, author Frederick Forsyth who visited a cold war bunker.
As seen on History Channel
Running time 58 minutes
Colour and B/W, UK PAL
Aspect ratio 16:9
---
We Also Recommend