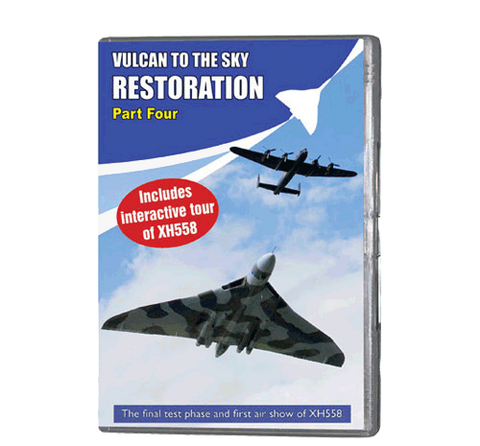 Vulcan to the Sky Restoration 4 (DVD 108)
This is the final part in the series of videos documenting the complete, and exclusive, story of the restoration to flight of Vulcan XH558 at Bruntingthorpe Airfield in Leicestershire. This series is unique in telling the complex story of the restoration of this phenomenal aircraft.
The Vulcan to the Sky team have been on a tremendous journey battling to return Vulcan XH558 to the skies. That goal was realised on October the 18th, 2007 when this iconic cold war bomber took it's first post-restoration flight. After such an intense period of restoration, spanning three years, the technicians returned once again to Bruntingthorpe to continue with the flight test programme.

This DVD documents the highs and lows of the several flight tests as the team overcame problems with undercarriage doors that refused to close, compass errors, radios that whistled and a mid-air fire warning emergency. The aircraft's compasses were realigned and the Vulcan was put nose to nose with Lancaster PA474 - re-uniting the two Avro Bombers.

As the testing phase neared completion the aircraft and crew prepared for the first air show at Waddington. But the Vulcan's debut was on a knife edge as the VOC waited for the CAA to grant the permit to fly. The news finally came through on the morning of the preview day as XH558's silhouette appeared on the horizon. However before the aircraft could display to the public, the display authorisation still had to be granted. The tension was high - would the Air Show have its star attraction, would the public see the vulcan display and would the Vulcan To The Sky Trust realise their ultimate dream -- to see XH558 back in the skies displaying to her adoring fans?
Running time 90 minutes + bonus
Narrated by David McAlister
Colour, UK PAL
Aspect ratio 16:9
---
We Also Recommend