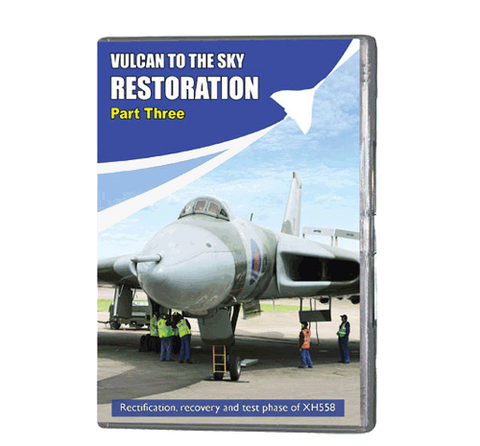 Vulcan to the Sky Restoration 3 (DVD 098)
This is the third in the series of videos documenting the complete, and exclusive, story of the restoration to flight of Vulcan XH558 at Bruntingthorpe Airfield in Leicestershire. This series is unique in telling the complex story of the restoration of this phenomenal aircraft.
With 'Roll Out' achieved and the future of the project guaranteed to first test flight, the Vulcan Operating Company and Marshall Aerospace can continue with rectification and recovery of Vulcan XH558. Part Three continues this fascinating restoration story, covering the most intensive engineering phase of the project. All six systems of the aircraft must be rectified, re-fitted and tested. Highlights include the rebuild of the fuel tanks and pipe work; completion of electrical repairs and 'power on' for the first time; flushing and testing of the oxygen, hydraulic and pneumatic systems; rebuild and balancing of the flying controls; the complete reconstruction of the cockpit including instrument panels and crew seats; installation of the four Engines, Auxiliary Airborne Power Plant and Air Conditioning Unit. To mark the 25th Anniversary year of the Falkland conflict Baroness Thatcher visits the hangar to lend her support to the engineering team, and meets her 'Black Buck' crews for the first time.

With the restoration work completed and the paperwork cleared the aircraft is moved outside for engine and taxy tests. Bruntingthorpe Airfield, XH558's home since 1993, reverberated to the sound of the mighty Rolls Royce Olympus engines once more. The programme culminates with the historic first test flight. The restoration of the Vulcan will remain one of the most exceptional aviation stories ever told.
Running time 120 minutes
Narrated by David McAlister
Colour, UK PAL
Aspect ratio 16:9
---
We Also Recommend