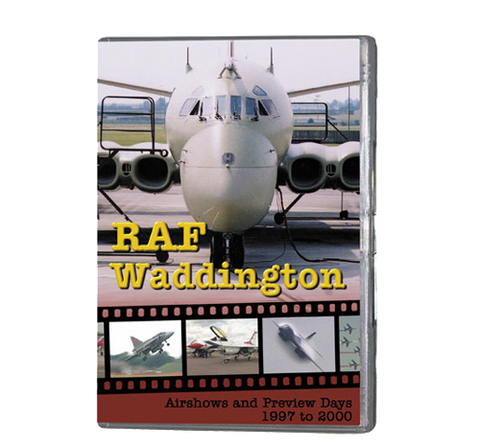 Waddington Air Show 1997 - 2000 (DVD 031)
A video compilation of some of the best action at RAF Waddington Air Shows and Preview Days 1997 to 2000, including the Stealth F117 arrivals in 1995.
Includes the Rockwell B1-B, MiG-29, Bell P63, Jaguar, Harrier T8, SU27 Flanker, F16, Lynx, SAAB Viggen, F86 Sabre, Mirage F1 and 2000, De Havilland Vampire, Magister and many more.
Display teams include the RAF Red Arrows, French AF Patrouille De France, Swiss Patrouille De Suisse, Royal Jordanian Falcons, Italian AF Frecce Tricolori, Spanish Team Aguila, L39 Albatross Team, Aerostars, Blue Eagles and the USAF Thunderbirds.
An air show period that will never be recaptured, compiled into on two hour DVD - a real treat for your aviation fan.
Running time 120 minutes
Colour
Aspect ratio 4:3, UK PAL DVD
Narration free, including scanner audio
---
We Also Recommend