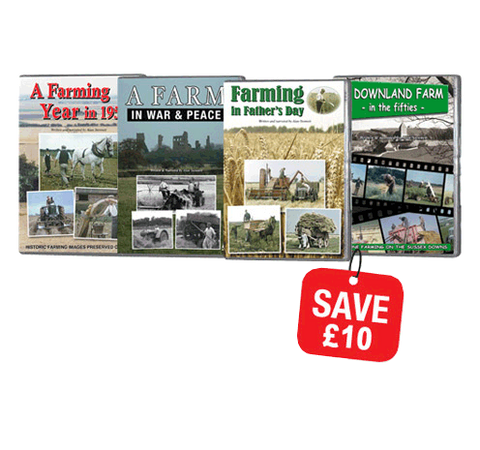 Bundle - Farming Archive collection (DVD420)
This excellent bundle includes four of our best selling farming archive titles:
A Farming Year in 1955 (£15.95 - 55 minutes)
This archive compilation provides a fascinating glimpse of a world gone by - a year in the life of a Lincolnshire farm at a time when horse-drawn carts brought trays of seed potatoes to a field where a gang of a dozen men planted them by hand, while a tractor driven ridger closed the rows behind them. We see grain crops harvested using a binder and a combine, muck spread by horse and cart, five different types of working machines, and chemicals applied to crops by a helicopter - a very modern technique for its time.  Read more...
A Farm in War and Peace (£15.95 - 55 minutes)
This DVD features archive film footage of PoWs at work in Castle Farm, as well as showing the changes that took place in the 1950s and 60s as it moved from wartime controls to become a modern dairy unit. A dairy herd of the now rare Ayrshire cattle, vintage farm machinery including Fordson and Ferguson tractors and one of the earliest Land Rovers are all featured.  Read more...
Farming in Father's Day (£15.95 - 55 minutes)
A family farm, on the Fenland border of Norfolk and Cambridgeshire, was a busy place in the 1940s and 50s. The farmer was an enthusiastic user of new machinery, including an International tractor bought in 1928 and a Cockshutt combine acquired in 1947, but he was also a great fan of heavy horses, particularly the traditional East Anglian breed, the Suffolk Punch. Fortunately for history and for us, he was also a keen cameraman, who filmed life and work on the farm. With the help of his sons, who farm on the same land today, this DVD shows their father's farm at a crucial stage in its history.  Read more...
Downland Farm in the 1950s (£15.95 - 55 minutes)
From the makers of the award winning Farming on Film series comes this fascinating new archive video showing life on a Sussex Farm at the time of significant change.  More than 30 men were employed at harvest, with a range of machinery including several tractors, binders, reapers, a threshing set and a flax puller seen at work. Stacks were made and thatched by hand, with the aid of a boom and grab to lift the hay from the carts. Crops featured include cereals, flax, hay and silage as well as root crops for winter feed. A unique look back at a time when the English countryside was a busier place.  Read more...
---
We Also Recommend