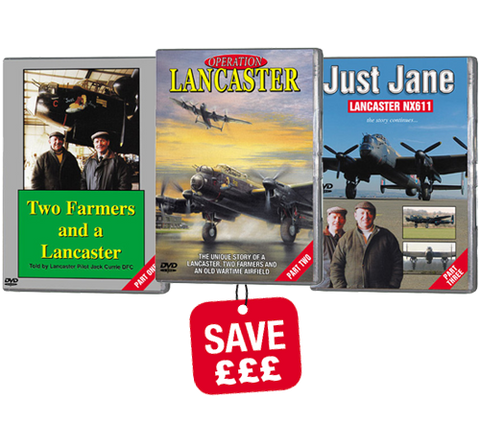 Bundle - Two Farmers and a Lancaster series (DVD 310)
This best selling trio comprises parts one, two and three of the story of East Kirkby and the restoration to taxy of Lancaster NX611.  Also available from the East Kirkby Aviation Heritage Centre, Lincolnshire.
Two Farmers and a Lancaster (RRP £15.95 - 55 minutes - Aspect ratio 4:3)
The first part in the unique story of the determination of two farming brothers to own and renovate a Lancaster on their own wartime airfield. Discover the reason for their ambitions and witness the rebirth of engines which have been silent for over twenty years. This is a story of dedication and commitment to a dream to see 'Just Jane' fly again. Thrill to the powerful roar of merlin engines for the first time since the War on this Lincolnshire airfield - now a remarkable aviation museum, complete with operational control tower featuring life like mannequins and Air Traffic Control equipment.  The Battle of Britain Memorial Flight's 'City of Lincoln', the only flying Lancaster in the UK, salutes her sister aircraft and marks an historic occasion.  With a full account of her history, archive film of her flying in the 1960s and with up-to-date restoration work on her engines, this video is a treat for all Lancaster enthusiasts.
Operation Lancaster (RRP £15.95 - 60 minutes - Aspect ratio 4:3)
Part two.  Farming brothers Fred and Harold Panton are the unlikely owners of a Lancaster bomber. On their wartime airfield in East Kirkby, now the Lincolnshire Aviation Heritage Centre, the bothers have lovingly restored 'Just Jane' with the ambition to see her fly again. For 23 years, Lancaster NX-611 has remained silent, but one by one her mightly Merlin Engines have roared again.  Follow the continuing story on video, from the moment her first engine burst into life to the day she taxied again on all four! Witness the occasion as Lancaster PA474 'City of Lincoln' salutes her sister aircraft with a low flypast, and the sound of eight Merlins reveberating around the airfield.  This is a fascinating story of human endeavour and mechanical splendour that will delight all Lancaster lovers.

Just Jane - The Story Continues (RRP £15.95 - 60 minutes - Aspect ratio 4:3)
This is the continuing story of Fred and Harold Panton's Lancaster NX611, formerly called 'Just Jane The Story Continues'.   NX611 has become something of a legend and this video captures all the events and achievements spanning six years.  Her acting debut in a BBC wartime drama is featured along with her historic tail-up taxi. She is re-united with the real Jane, the former model of the Daily Mirror's wartime comic strip, who christens her namesake. East Kirkby airfield turns back the clock with a simulated German night-time bombing raid, complete with explosions, search lights, anti-aircraft fire and air-raid sirens.  Fred meets the remaining survivor of Chris Panton's Halifax crew and German night fighter pilots, who shot down Lancasters in the war, visit the museum. A rescued Lancaster engine returns home after more than 50 years and a flying replica of Just Jane lifts off from East Kirkby's runway - a thrilling testament to the hopes of thousands of NX611 enthusiasts.

---
We Also Recommend