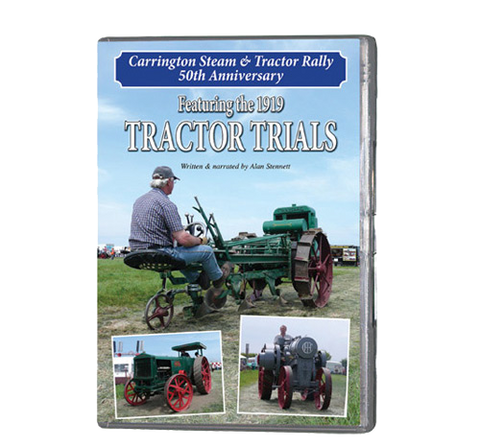 Carrington 50th - Tractor Trials (DVD 107)
In 1919, the British Government organised a series of tractor trials near Lincoln, to find out which of the many machines just coming onto the market would be suitable for British farmers.
91 years after the event, as part of their 50th Anniversary Steam and Vintage Rally, enthusiasts at Carrington, on the Lincolnshire Fens, brought together examples of as many as possible of the machines that helped kick start the revolution in farming that saw horses replaced by horse-power. Not surprisingly, some of the tractors that were there in 1919 have not survived into the 21st century, but a remarkable number of ancient machines lined up on the rally field, took part in parades and even participated in the working demonstrations.
Among them were a 1917 Saunderson, one of the earliest British tractors, a three-ton Alldays, a 1915 Whiting-Bull Little Bull, Cletrac and Clayton crawlers, several different internationals, a Crawley Agrimotor, with the driver perched on a seat some way behind the machinery, a Wallis Cub, a Gray Drum Drive, with a single drum-like rear wheel and what appeared to be a shed roof erected over it, a General Ordnance that had already made an appearance on three different continents, as well as one of the wartime Fordsons which had effectively set the standard for the Trials.
In this production we hear from the owners and drivers of the machines on show, as well as hearing something about the machines that didn't make it. Filming took place in the setting of the rally, and includes some of the other activities at one of vintage machinery's favourite events.
Running time 73 minutes

Colour, UK PAL DVD

Aspect ratio 16:9

Written and narrated by Alan Stennett
---
We Also Recommend