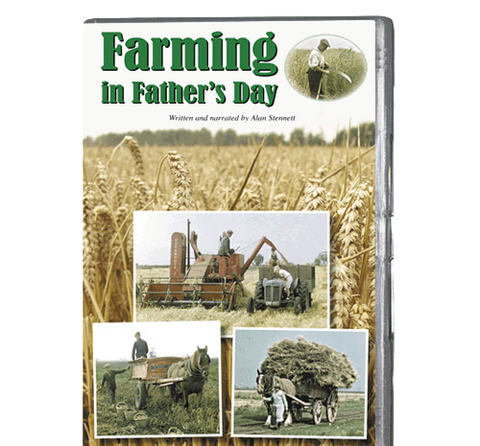 Farming in Father's Day (DVD 099)
A family farm, on the Fenland border of Norfolk and Cambridgeshire, was a busy place in the 1940s and 50s. The farmer was an enthusiastic user of new machinery, including an International tractor bought in 1928 and a Cockshutt combine acquired in 1947, but he was also a great fan of heavy horses, particularly the traditional East Anglian breed, the Suffolk Punch. Fortunately for history and for us, he was also a keen cameraman, who filmed life and work on the farm.
With the help of his sons, who farm on the same land today, this DVD shows their father's farm at a crucial stage in its history.
Gangs of men and women are seen hard at work in the fields, doing jobs that have now long since been mechanised. Horses are still plentiful, and a steam threshing set was hard at work, but Farmall tractors, IH crawlers and the combines are gradually taking over. The cropping included grains for sale and for the livestock; beet, peas and potatoes as cash crops, and fodder beet for the Lincoln Red cattle kept on the farm.
As the 'boys' look back at Farming in Father's Day, we too can enjoy a unique glimpse of a style of farming that has gone for ever.
Running time 55 minutes
Written and narrated by Alan Stennett
Colour, UK PAL DVD
Aspect ratio 16:9
BUY THIS ITEM AS PART OF A FARMING ARCHIVE BUNDLE AND SAVE £10
---
We Also Recommend