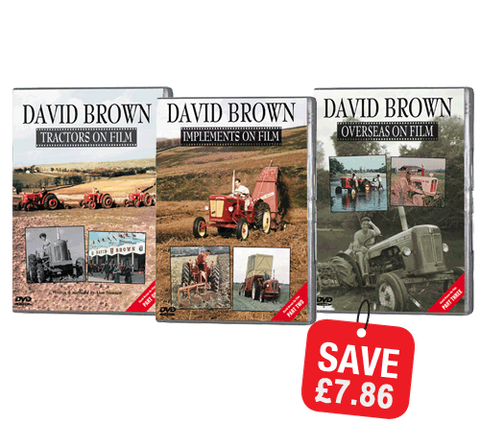 Bundle - David Brown on Film series (DVD301)
Featuring all three of our DVD series comprising:
David Brown Tractors on Film (RRP £15.95)
This DVD uses original David Brown footage to trace the history of their tractors from the original VAK-1, designed in the 1930s, right up to the 1410 and 1412 machines, the last to be built to David Brown specification, which were still coming out of the Melksham factory in 1980.  Machines featured include the legendary Cropmaster, the 25 and 30 series, Taskmaster industrial and airfield machines, the lightweight 2D, a 40TD crawler, 990 and 880 Implematics, three 1970s Highway Tractors and the Selectamatic range up to and including the 1200. Every major colour variation is illustrated, including a red 770  Selectamatic, and the later joint Case/David Brown livery. Technical innovations such as Traction Control, Livedrive and the Hydra-shift are introduced, along with the less-successful Autodrive automatic transmission.
David Brown Implements on Film (RRP £15.95)
David Brown implements were constructed by what the company called a 'Great Alliance' of David Brown itself and a range of specialist agricultural engineers. Some were made to David Brown designs in their own factories. Others were designed by local agents but built by David Brown, and a larger number were constructed by companies such as Atkinson, Alley and McConnel to David Brown approved specifications.  The DVD features several different kinds of ploughs, from the conventional 3-furrow to the very unconventional 2-way plough, many cultivation and crop handling machines and a variety of specialist devices, including post-hole diggers, hammer mills, trailers and muck-spreaders.  Special attention is paid to Hurricane forage harvesters, the various lifting and handling tools, and the Albion range of implements which occupy a special place in the history of David Brown.
David Brown Overseas on Film (RRP £15.95)
David Brown exported tractors and farm machinery all over the world, from the frozen mountains of Scandinavia to the tropical forests of Africa, and the company's film crews followed the tractors wherever they went. Fortunately, many of those films were preserved, and their fascinating glimpses of international agriculture from half a century ago have been used for this third volume of the David Brown on Film series.  The material includes an 'International Rescue' operation to get a PTO case to a snow-bound farmer in Norway, a State Fair in the USA, fruit farming in the Lebanon, rice and scrub clearance in Ghana. Tractors and implements from the 1940s to the 1970s can be seen at work in everything from dusty desert roads to swampy paddy fields, and the crops grown include rice, sugar cane, maize, bananas, ground nuts and grapes.
---
We Also Recommend