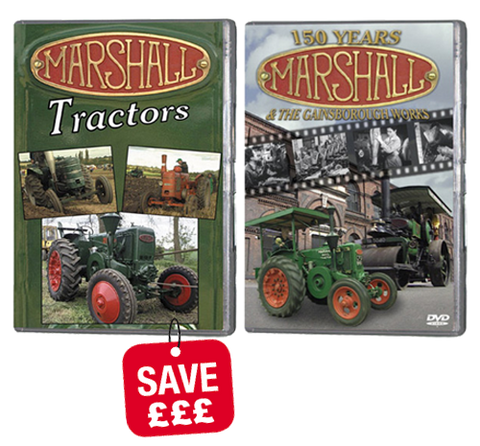 Bundle - Marshall Tractors (DVD)
This bundle includes nearly two hours of Marshall tractor footage including our two best sellers:
Marshall's 150th Anniversary (RRP £10) was celebrated at the works with a gathering of machines and enthusiasts, coming together for what may be the last time, as part of the site is being redeveloped as a supermarket. This video records that historic event, and takes the viewer inside the works as a range of Marshall machinery, from all over the country, return 'home'. Machinery on view included a full range of tractors, steam traction engines and road rollers, some of which participated in a road run, and a variety of smaller items bearing the company's famous name.  This video features ten minutes of previously unseen archive film of the Gainsborough works in full production in 1951. The foundry, a forge and several machine shops building tractors are shown, as well as line assembly and testing of Field Marshall tractors. Other film shows a Marshall threshing unit hard at work, and a First World War water pump, made by Marshall, demonstrating its post war uses in 1921.
Marshall Tractors (RRP £10.00) Only one tractor in the World is instantly identifiable with your eyes shut - a Marshall. The single-cylinder horizontal diesel engine that drove most Marshall tractors produced that characteristic 'pop pop' sound that stands out in any collection of vintage tractors. This video brings together a range of Marshall tractors at work and on display, with probably the only 15/30 in preservation, 18/30s and 12/20s, and a Model M driving and threshing set. The famous post war Field Marshalls can be seen at work , with a Fowler VFA - a Field Marshall on tracks - before and after restoration. The ill-fated MP6, 'a tractor ahead of its time' is also featured, to complete the coverage of wheeled Marshall tractors. Filmed at the 50th Anniversary celebrations of the series II Field Marshall, a variety of working days and other events, and at the collection of enthusiast and dealer Robert Crawford, this production presents an opportunity to relish the sight and sound of lots of Marshall tractors and will appeal to Marshall fans, enthusiasts and anyone with affectionate memories of a popping Marshall.
---
We Also Recommend