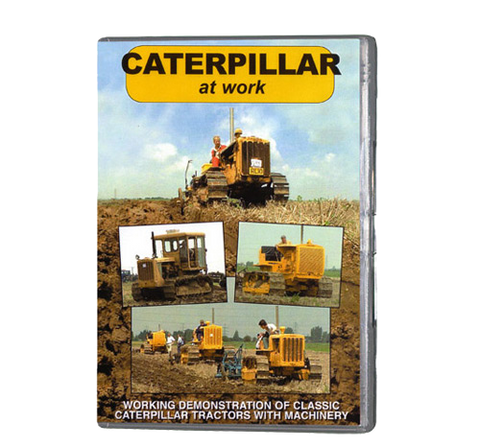 Caterpillar at Work (DVD 020)
To a Caterpillar fan there is only one kind of tractor that matters. It has tracks, is painted yellow, runs forever and has Caterpillar on its nose. The company was and still is a major manufacturer of agricultural, construction and earthmoving equipment, but its earlier products are keenly sought after by enthusiasts, many of whom still use their machines for work as well as pleasure.
The Long Sutton Agricultural Society, UK, with the Antique Caterpillar Owners Club of Great Britain, brought a collection of tractors to South Lincolnshire for a working day on 34 acres of land. This official video is a record of that day, covering machines from the little D2s to massive D8s at work ploughing, cultivating and mole draining, as well as five static machines from the earliest days of the company.
In addition archive film taken in 1908 shows the World's first chain track vehicle, the predecessor to the American-built machine. The sight and sound is pure Caterpillar; slow revs, high power and happy owners - something for every crawler lover.
Running time 55 minutes
Colour, UK PAL DVD
Aspect ratio 4:3
Written and narrated by Alan Stennett
---
We Also Recommend