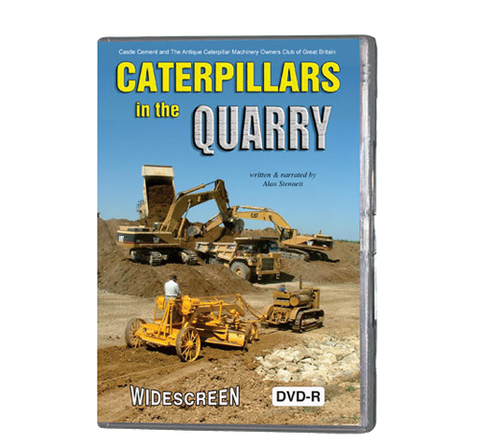 Caterpillars in the Quarry (DVD 070)
When it comes to quarrying, Caterpillar is King, and has been for many years. Excavators, front loaders, dump trucks and all the other key machines for lifting, loading and transporting sand, gravel, soil or stone come in the familiar yellow livery.
The Castle Cement limestone quarry at Ketton, in Rutland, uses Caterpillars almost exclusively, and this film takes you right into its heart to see all the latest machines hard at work. They include the massive 100-tonne capacity 777D Off-Highway Trucks, 375 Mass Excavation and long boom excavators and several wheeled loaders, including the 992G monoboom, which, working as a pair, can load a 100 tonne truck in only 60 seconds flat.
A selection of antique Caterpillar tractors and equipment, including graders, bull dozers, box scrapers, and loaders work side by side with their modern counterparts. Official video of a Castle Cement and Antique Caterpillar Machinery Owners Club of Great Britain event.
Running time 54 minutes + bonus

Colour, UK PAL DVD


Aspect ratio 16:9

Narrated by Alan Stennett.
---
We Also Recommend