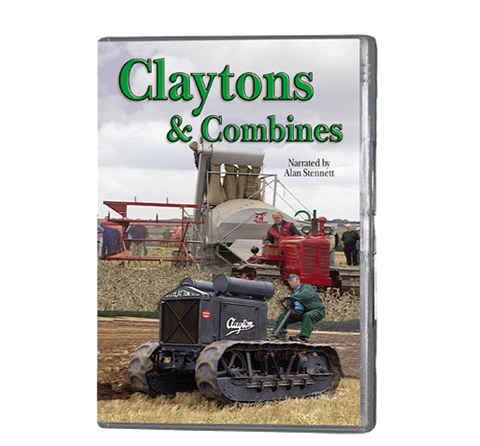 Claytons and Combines (DVD 069)
The highlight of this video is the sight and sound of almost every working Clayton crawler tractor in the country hard at work. Four of the century-old machines, all with ploughs of a similar vintage, followed each other, furrow for furrow, down the field. It was a sight that is unlikely to be seen again, but which has been captured for this video.
Other rare tractors to be seen include an Allis Chalmers Model L crawler, and an International 10-20 TracTracTor, both believed to be the only operational examples in the country, an early transverse engine Case, and a locally built Colt de Luxe minitractor.
The Little Casterton working event is famous for its vintage harvesting machinery. An International Harvester Model 22 trailed combine, probably more than 60 years old, can be compared with one of the legendary war-time Massey Harris 21s, a 1940s Class Super-Combine or a Swedish built Aktiv, all supported by tractors, balers and other field equipment from the same period.
Running time 59 minutes
Colour, UK PAL DVD
Aspect ratio 4:3
Written and narrated by Alan Stennett
---
We Also Recommend