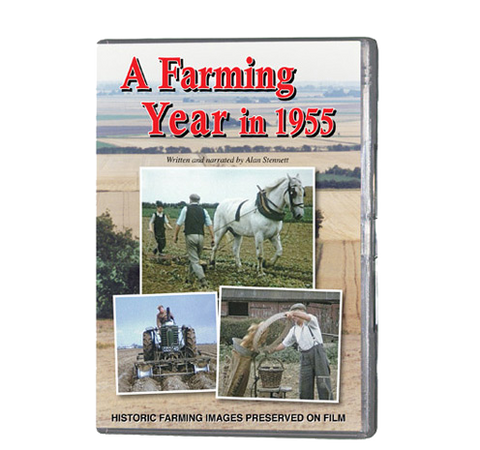 A Farming Year in 1955 (DVD 001)
This archive compilation provides a fascinating glimpse of a world gone by - a year in the life of a Lincolnshire farm at a time when horse-drawn carts brought trays of seed potatoes to a field where a gang of a dozen men planted them by hand, while a tractor driven ridger closed the rows behind them. We see grain crops harvested using a binder and a combine, muck spread by horse and cart, five different types of working machines, and chemicals applied to crops by a helicopter - a very modern technique for its time.

We see livestock, and in the fields, potatoes, wheat, sugar beet, mustard and peas are the crops for the year. Some corn was still stooked, stacked and threshed in the winter, although the new Massey Harris combine, fresh from the United States, was about to render such skills, and those of the stack-thatcher, completely obsolete.

Home Farm was and still is a fine example of fenland farming, and thanks to Mr Piccaver and his 16mm film camera, we are able to look back at a time when two agricultural traditions ran side by side, one coming in as the other was going out, but both equally fascinating. Nothing filmed before or after could have captured the rich variety of machinery and farm skills, and it should be in the collection of every farm fan or social historian.
Running time 55 minutes

Written and narrated by Alan Stennett

Colour, UK PAL DVD

Aspect ratio 4:3
BUY THIS ITEM AS PART OF A FARMING ARCHIVE BUNDLE AND SAVE £10
---
We Also Recommend