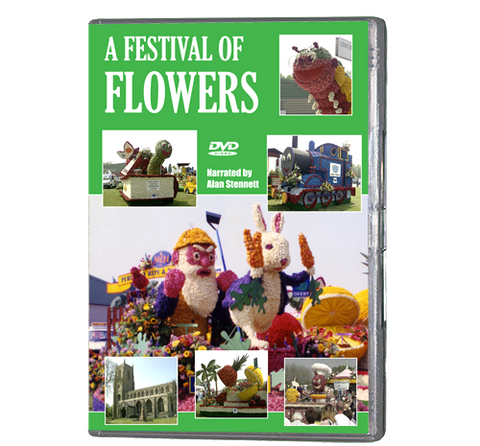 A Festival of Flowers (DVD 072) - Now on DVD
The stunning display of flowers, decorated floats, marching bands and other attractions that is the Spalding Flower Parade and Spring Festival have been attracting hundreds of thousands of visitors to this small Lincolnshire town for decades.
The theme for the 1995 parade, 'The World of Books', gave the talented design team plenty of opportunity to let their imagination run wild. Peter Rabbit, Thomas the Tank Engine, Alice in Wonderland, and many other favorite stories join a university library, a cook book and a book-worm as they parade through the streets in brilliant sunshine.
This DVD shows the entire parade from three elevated camera positions giving the viewer the opportunity to see the floats from all angles. Also featured
is behind-the-scenes preparation, never seen by visitors, including the float designs, construction of metal frames and the hectic application of tulip and other flower heads.
Also includes the beautiful Springfields Gardens in full bloom and some of the floral displays in surrounding churches.
Running time 60 minutes

Colour, UK PAL DVD First Released 1995

Aspect ratio 4:3

Narrated by Alan Stennett
---
We Also Recommend