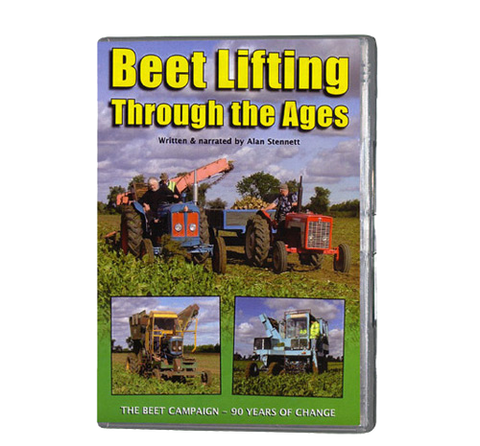 Beet Lifting Through The Ages (DVD 092)
Sugar beet harvesting has changed dramatically over the near-century that the crop has been grown in Britain, and this production records those changes. It was once one of the worst jobs on the farm. The roots had to be pulled up by hand, knocked together to remove as much soil as possible, topped with a large knife and thrown into a horse-drawn cart. All done in autumn and winter conditions that could include hard, dry ground, thick mud, snow or driving rain.
A range of machines gradually developed to take over most of the hard work, and with the threat of extinction hanging over the beet industry, enthusiasts for vintage machinery got together in a field at Glinton, near Peterborough, to demonstrate that development.
Volunteers harvested beet using everything from 'knock and chop' with their bare hands to massive machines that can clear acres of the crop in a day. Equipment working included horse-drawn carts, vintage beet ploughs, early Catchpole, Dyson and Standen harvesters, a rare Ransomes Hunter, a range of Standen Solobeet equipment and more modern Kongskilde, Garford, Matrot and Kleine self-propelled machines. Also includes modern and vintage beet loading.
Running time 55 minutes
Colour, UK PAL DVD
Aspect ratio 16:9
Narrated by Alan Stennett
RENT THIS VIDEO IN HD BELOW
---
We Also Recommend