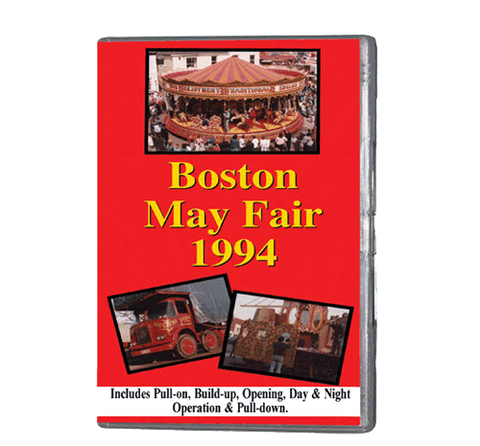 Boston May Fair (DVD 076)
The Lincolnshire town of Boston holds its annual street fair during the first week in May. This historic fair, whose original Charter dates back 450 years, fills the Market Place and adjoining car parks, and is an important fair in the showmen's calendar.

1994 proved to be a special fair. Several rides, including Webbs' dramatic 'Voyager', made their first appearance in Boston. Bishton's brand new set of Gallopers, the first to be built for many years, was officially dedicated at the fair. Brilliant sunshine made the traditional opening ceremony, with many local Mayors in attendance, a memorable sight.

The camera followed the event throughout the week, from the arrival of the first lorries and the build-up of rides to the final pull-down and departure. The video includes exclusive day and night footage of the fair taken from the top of the famous Boston 'Stump'.
Running time 90 minutes
Colour, UK PAL DVD
Aspect ratio 4:3
---
We Also Recommend