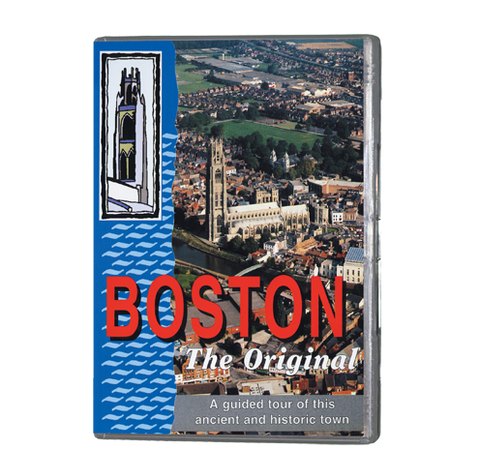 Boston the Original (DVD)
Boston, in the UK, is a town steeped in history. The Pilgrim Fathers set sail for America seeking religious and political freedom after a failed attempt which left them imprisoned in the town's Guildhall. Boston's magnificent buildings bear testimony to the wealth that was generated in medieval days when the port of Boston was, for a little time, more important that the port of London. The famous Boston Stump, the tallest parish church in England, towers over the fenland town and has been a beacon to travellers for over 400 years.  
Now for the first time, Boston's fine buildings, history and charm have been captured on video.  Discover the town's treasures and traditions including guided tours of the Stump, Guildhall, Fydell House, Maud Foster Windmill and the renowned outdoor market.

Also featured are the town's colourful celebrations including the 450th Anniversary, Town Carnival, Boston Show and Royal Visits. A detailed look at the town today combines with impressive sunsets, the area's wildlife and beautiful views of the town, which reveals 'Boston - The Original'.
Running time 40 minutes

Narrated by Dave Bussey

Colour, UK PAL DVD

Aspect ratio 4:3
---
We Also Recommend