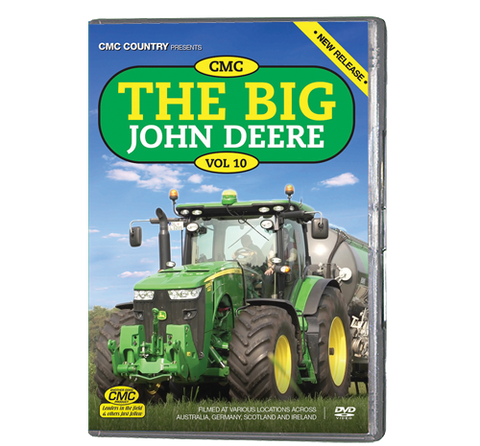 The Big John Deere 10 (DVD 228)
This DVD takes us to different parts of the world to meet up with other John Deere owners who do different jobs on their farms. Down in Australia we met Dallas Stott who showed us his new 4940 self propelled sprayer in action and took the time out to explain how it works in the massive paddocks in his part of Australia
Also in Australia we see a new John Deere 9470RT track machine with a big 470hp engine. Its driver shows us around it while at work with a massive ripper.
Then over in Northern Germany on a big 450 Hectare farm, which produces's cash crops like Wheat, Rape and Maize for silage, we see a John Deere 8285R Series' running with a new Dutch Kaweco slurry tanker with an injector built by the Vogelsang. The target of the injector, called Base Runner is to bring the slurry directly in separate lines on the ground to the Grass. This was filmed at a demonstration of the new injector and the farmer used it for the rest of the season.
Back over to Ireland we follow two teams of men at work cutting, rowing and lifting the grass. They work in very narrow gate ways and roads, but that doen't stop these men from getting the job done.
Up in Northern Scotland we visit a big agriculture contractor who has a lot of John Deere's in its fleet. They are seen lifting grass and cutting crops with a John Deere harvester and a fleet of John Deere tractors. The fleet is well maintained and the drivers take pride in their work and get the job done.
Running time approx 60 minutes
Colour UK PAL DVD
Aspect ratio 16:9
---
We Also Recommend