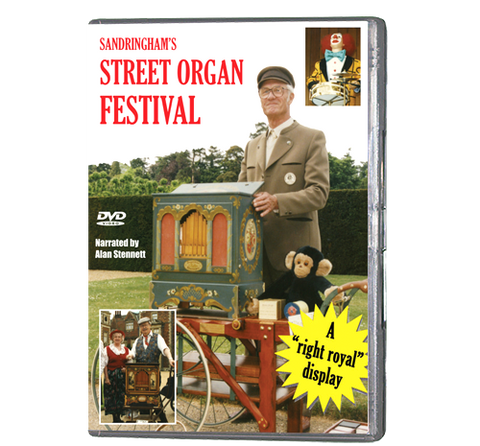 Street Organ Festival (DVD 044) - Now on DVD
A "right royal" collection of street organs in a truly Royal location. Over twenty British and continental hand-turned organs brought together in the splendid grounds of Sandringham House in picturesque Norfolk for the First Sandringham Street Organ Festival on 27th May 1995.
Instruments by Pell, Trueman, Raffin, Oehrlein, Veerbeeck and others, including a Pell Tulip 27 keyless and a Raffin 31 note trumpet organ, play around the house and buildings and in the magnificent gardens which are also featured. The music performed from paper rolls and card books range from old German tunes to thirties 'swing', with plenty of music hall and sing-along ditties. Each organ is shown in detail, giving time to appreciate the mechanism, the hand-carved cases and
a variety of toy monkeys, figures and automata that many organ grinders still consider an essential part of their instruments.
Believed to be the first professional street organ video to be made in the UK, it has been produced for enthusiasts and casual listeners alike. The video combines an appreciation of fine craftsmanship and an unusual musical experience, as the sound of these enchanting machines drifts around the Royal residence, between trees and across the lake to the obvious pleasure of the springtime visitors and you the viewer..
Running time 50 minutes

Colour, UK PAL DVD First Released 1995

Aspect ratio 4:3

Narrated by Alan Stennett
---
We Also Recommend