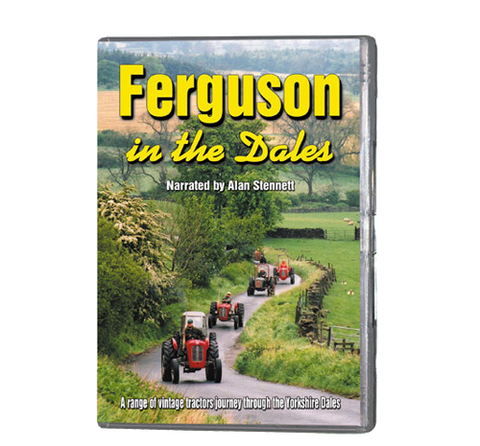 Ferguson in the Dales (DVD 013)
Dead Man's Hill, a 1-in-3 rock-strewn dirt road, is a challenge for any vehicle, especially after a heavy rain storm, but 30 vintage Fergusons and other makes had to tackle the climb as part of a unique road run in the splendid scenery of the Yorkshire Dales. The 45 mile journey took them along country lanes and village streets, an old railway line and parts of an old drover's road over the hills. The participants set out from the ruins of Jervaulx Abbey, passing great dams, two abandoned villages, a castle and other local landmarks. They climbed a 1500 foot ridge and crossed a bog, while experiencing weather which ranged from torrential rain to brilliant sunshine.
Tractors taking part included a dozen TE20 'Little Grey Fergies', a Ferguson 35, several M-F 35s and a 165. There was also a non-Ferguson contingent bringing up the rear, which included some Fordson, Nuffield and International tractors.
Running time 54 minutes

Colour, UK PAL DVD

Aspect ratio 4:3

Written and narrated by Alan Stennett
---
We Also Recommend