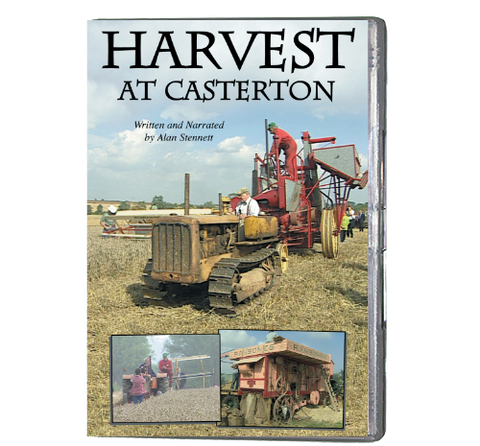 Harvest at Casterton (DVD 006)
A celebration of how the most important job in farming has changed during the 20th Century. At the village of Casterton in Rutland, UK, enthusiasts gathered to re-create the early days of mechanisation from binders to the early combines. Four threshing sets, including a Ransomes unit of traction engine, drum and baler, a Ransomes portable steam engine and 'crofters' drum, and an American McCormick peg-drum thresher driven by a Lanz vintage tractor, are all at work on sheaves cut and bound the same day by an I.H. binder.
Veteran Massey-Harris and Allis Chalmers combines, and a 1930's International 31T harvester gather in the wheat, alongside a post-war, British-built B64, also from I.H. The straw is dealt with by balers, including a New Holland Automaton, the first machine to tie bales fully automatically, and an Allis Rotobaler. Its cigarette-shaped bales were loaded on to a trailer using a purpose built lifter developed in the 50's by an industrious farmer!
A range of vintage tractors, including Allis Chalmers WC an U models, and a Field Marshall, handle the harvest equipment. Other machines on show include Saunderson, Caterpillar, Nuffield and oil-pull tractors and a small mill driven by a little stationary engine which ground the day's wheat into flour.
Running time 53 minutes

Colour, UK PAL DVD

Aspect ratio 4:3

Written and narrated by Alan Stennett
---
We Also Recommend