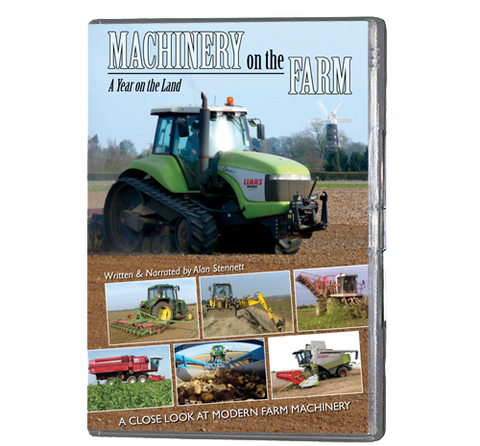 Machinery on the Farm
This DVD follows a modern farm's machinery for a full cycle of each crop from sowing or planting through to harvest as well as land preparation and cultivation on the soils. Crops seen include wheat, peas, oil seed rape, potatoes, sugarbeet and field vegetables. 
Machinery seen includes John Deere, Claas, Marooka, Fiat, Fendt, and Agroton tractors using large, fast tackle such as a 6m Preparator power harrow, a Standen Big Boy potato planter and a Vaderstad drill as well as a Claas Lexion combine. 
The farm also runs its own dedicated pea vining harvesters to make sure the crop arrives at the freezing plant within a 90 minute time span from field to freezer. Most of the equipment was fitted with miniature cameras to reveal close up action in operation. 
A glimpse back at the 1950s using archive film taken on the farm, illustrates how farming has changed over half a century.
Narrated by Alan Stennett
Total running time 90 minutes
Colour UK PAL DVD
Aspect ration 16:9
---
We Also Recommend