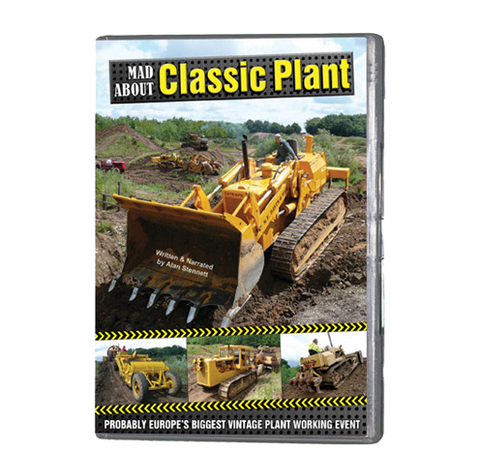 Mad About Classic Plant (DVD 116)
If you are Mad about Classic Plant, then seeing it put to work is a special treat. So when the Link Club, previously the Antique Caterpillar Owners' Club of Great Britain, were asked to restore a 4x4 off-road vehicle course in an old quarry at Sibbertoft in Leicestershire it offered the chance to see some powerful machines at work. Caterpillar tractors, bulldozers and crawler loaders, as well as a Track Marshall 55 and an International TD18 provided the motive power for a fleet of five scraper boxes and a big Killifer Ripper. Between them they levelled hills and built new ones, reshaped ponds, filled gullies and created tracks through the quarry. This DVD covers all the stages of the operation, from the untouched site to the completed job. Bonus material gives more details of the arrival of the equipment and the working scrapers.
Caterpillar equipment featured includes: D9G, D8 with 435F scraper, D7M and D6 with scraper boxes, Diesel 75 and ripper, 983, 933, 941B, 943, 951C, D2, D4D, and D4E, including a version adapted for working on the railways.
Running time 80 minutes

Colour, UK PAL DVD/USA NTSC DVD
Aspect ratio 16:9
Written and narrated by Alan Stennett
---
We Also Recommend