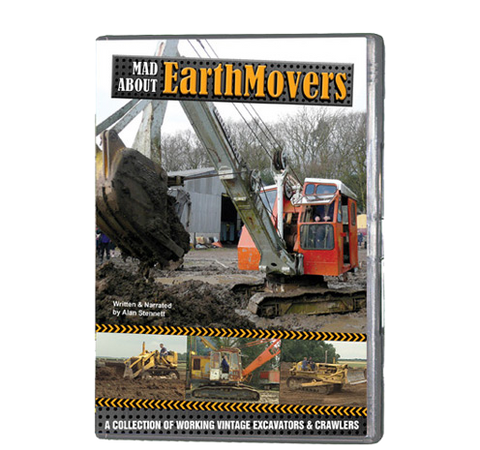 Mad About Earth Movers (DVD 115)
Andrew Beulah's Meaux Abbey Farm, in Yorkshire is a fascinating place for enthusiasts of heavy earth-moving machinery. Andrew's own collection of tractors, bulldozers, excavators and similar big tackle are housed there, but it is also the base for people who own big machines, but have nowhere to keep them at home.

Regular working sessions are held at the farm, and this film is a record of one of them, when the main centre of attention was the range of excavators kept there. The farm is only a few miles from the site of the works of the Priestman company, one of Britain's most important excavator manufacturers in the years after WWII, so it isn't surprising that the event featured a good selection of Priestman dragline and cable excavators. Examples of the Cub, Tiger and Lion cable-operated ranges can all be seen at work, as well as one of the early Beaver Hydraulic excavators. Other hydraulic machines being operated include a Ruston-Bucyrus 220RH and one of the innovative JCB 110 tracked loaders.

Other machines on the film include two Fowler Challenger tractors, a Vickers Vigar bull-dozer based on tank technology and the remarkable Caterpillar Sugar Baby tractor. Close-up filming allows the sights and sounds of all these big machines to be enjoyed in full.
Bonus features offer heavy earth moving machinery levelling a field and filling a ditch, three excavators digging a wildlife pond and more examples of Andrew's big machines, including a heavy-lift crane built for export markets and an American device brought over during the war for recovering crashed aircraft and other military equipment.
Running time 84 minutes
Colour, UK PAL DVD
Aspect ratio 16:9
Written and narrated by Alan Stennett
---
We Also Recommend